Diving Courses
Get Certified! Take a Scuba Lesson with the PADI trained professionals
Get your PADI scuba certification. If you've always wanted to learn how to scuba dive, discover new adventures or simply see the wondrous world beneath the waves, this is where it starts.
The PADI certified courses itis the world's most popular scuba course, and has introduced millions of people to the adventurous diving lifestyle. Browse through the tabs below to find out more about the coureses we provide training for .
Open Water Diver
Get Certified! Take a Scuba Lesson with the PADI Open Water Diver Course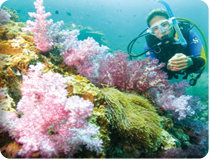 Get your PADI scuba certification. If you've always wanted to learn how to scuba dive, discover new adventures or simply see the wondrous world beneath the waves, this is where it starts.
The PADI Open Water Diver course is the world's most popular scuba course, and has introduced millions of people to the adventurous diving lifestyle.

What You Learn
The PADI Open Water Diver course consists of three main phases:
Knowledge Development ( home study or in a classroom ) to understand basic principles of scuba diving
Confined Water Dives to learn basic scuba skills
Open Water Dives to review your skills and explore!
If you've tried diving through a Discover Scuba Diving experience or resort course, the skills you learned may be credited towards a portion of the full PADI Open Water Diver course certification.

Prerequisites
To enroll in the PADI Open Diver course or Junior Open Water Diver course, you must
We offer all diver level courses for beginner and experienced divers and professional courses to become a divemaster, assistant scuba instructor and further your professional leadership career.
The Fun Part
The fun part about this course is . . . well, just about all of it because learning to dive is incredible. You breathe underwater for the first time (something you'll never forget) and learn what you need to know to become a certified diver. During the course, you'll make at least five pool dives and four dives at local dive sites under the supervision of your PADI Instructor.
PADI TecRec

Technical Diving
Technical scuba diving is defined as diving other than conventional commercial or research diving that takes divers beyond recreational scuba diving limits. It is further defined as and includes one or more of the following:
diving beyond 40 metres/130 feet deep
required stage decompression
diving in an overhead environment beyond 40 linear metres/130 linear feet of the surface
accelerated decompression and or the use of variable gas mixtures during the dive

Because in technical diving the surface is effectively inaccessible in an emergency, tec divers use extensive methodologies and technologies and training to manage the added risks. Even with these, however, tec diving admittedly has more risk, potential hazard and shorter critical error chains than does recreational scuba diving.
Why would I want to be a tec diver?
Tec diving not only has more risk, but it requires significantly more effort, discipline and equipment. It's not for everyone, and you can be an accomplished, avid top-notch diver your entire life without making a tec dive.



That said, there's a cadre of individuals who want to visit places underwater that relatively few people can. Many spectacular, untouched wrecks lie at depths well below 40 metres/130 feet. Deep reefs have organisms you don't find in the shallows. Some people enjoy the challenge and focus tec diving requires. Still others love being involved with cutting edge technologies. These reasons make tec diving rewarding.




Prerequisites
TecRec prerequisites vary (see individual course descriptions), but the following applies to anyone interested in technical diving: You must be:-
18 years or older
A mature, responsible person who will follow the required procedures and requirements strictly and faithfully
Medically fit for tec diving (physician's signature required)
Willing to accept the added risks that tec diving presents
An experienced diver with at least 100 logged dives
Certified as a PADI Enriched Air Diver and PADI Deep Diver or equivalent (for this program equivalency is proof of training in recreational deep diving 18 meters/60 feet to 40 meters/130 feet consisting of at least four dives and training in nitrogen narcosis considerations, contingency/emergency decompression, making safety stops and air supply management OR, have a minimum of 20 logged dives deeper than 30 meters/100 feet.)
Tec Gas Blender
Gas Blender Course
More people are diving with enriched air and this means the demand for enriched air fills is also increasing.
However, there needs to be someone qualified to administer these fills to meet this demand. This is where the PADI Gas Blender course comes in. It can result in one of two certifications: PADI Gas Blender or PADI Trimix Blender.http://www.padi.com/scuba/padi-courses/professional-courses/view-all-professional-courses/tec-gas-blender-instructor/default.aspx
What You'll Learn

The Gas Blender course will train you as a qualified gas blender, allowing you to provide gas mixes to appropriately certified consumers.
You'll learn the physical properties of oxygen, its associated hazards, handling requirements and what cleaning equipment is necessary. Finally, you will learn the five methods of obtaining the desired enriched air nitrox mix and the various methods used to obtain proper helium mixes.
Emergency First Response
Gas Blender Course Emergency First Response Primary Care (CPR) Course Content
Emergency First Response Primary Care (CPR) teaches participants how to respond to life-threatening emergencies. The course focuses on primary care through a combination of knowledge development, skill development and realistic scenario practice to make sure participants have the confidence in their ability to provide care when emergency situations arise. Primary Care (CPR) skills taught in this course:
Scene Safety Assessment Universal Precautions - Communicable Disease Protection, including barrier use Primary Assessment Rescue BreathingCardiopulmonary Resuscitation (CPR) Conscious and Unconscious Obstructed Airway Management Serious Bleeding ManagementShock Management Spinal Injury Management
Recommended Skills
o Automated External Defibrillator (AED) training
o Emergency Oxygen Use Orientation.
Emergency First Response Secondary Care (First Aid) Course Content
Emergency First Response Secondary Care (first aid) covers injuries or illnesses that are not immediately life threatening. Participants focus on secondary assessment and first aid through knowledge development, skill development and realistic scenario practice.


Secondary Skills taught in this course:
Injury Assessment
Illness Assessment
Bandaging
Splinting for Dislocations and Fractures
Includes Reference Section on the following topics:
Allergic Reactions, Bruises, Burns, Chemical Burns, CPR (adult, child, infant) Choking (adult and infant), Cone Shell Stings, Coral, Jellyfish and Hydroid Stings, Cuts, Dental Injuries, Diabetic Problems, Dislocations and Fractures, Electrical Injuries, Eye Injuries, First Aid Kit Assembly, Fish Spine Injury, Frostbite, Heat Exhaustion, Heatstroke, Heart Attack, Hypothermia, Illness Assessment, Injury Assessment, Insect Stings, Octopus Bites, Poisoning, Rescue Breathing (adult, child, infant) Scrapes, Seizures, Snake Bites, Spider Bites, Sprains and Strains, Stroke, Temperature Related Injuries, Venomous Bites and Stings, and Illness Assessment Record Sheet.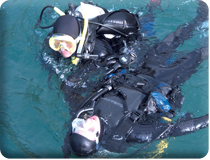 Prerequisites
To take this course, you must be:
A PADI Open Water Diver (or qualifying certification from another training organization)
15 years old (12 for Junior Advanced Open Water Diver




PADI Seal Team 8+ yrs
PADI Seal Team Programme
The PADI Seal Team is for young divers who are looking for action-packed fun in a pool by doing exciting scuba AquaMissions.
Have you ever wondered what it's like to dive with flashlights, take digital pictures underwater or float effortlessly like an astronaut? These are AquaMissions that introduce you to wreck, navigation, buoyancy, underwater photography, environmental awareness and more.
Here's your chance to do some cool stuff in the pool, meet friends and share in the adventure of the underwater world.
The Fun Part
The best part of the Specialty AquaMissions is they reinforce save diving skills while the kids are having fun. PADI Seals get to sample a wide variety of dives.
In addition, it provides parents with a structured program that lets their children develop skills, learn about the aquatic environment and have a lot of good, clean fun. This is also an excellent way to introduce kids to scuba diving prior to full Open Water Diver Certification.
The Fun Part
Youngsters can join in the family fun of scuba diving or even start a trend! Children should be comfortable in the water, but they don't have to be super swimmers. With youngsters in mind, the maximum depth is only 2 metres/ 6 feet.
Typical sessions last about an hour (sign up, gear up and fun included)
Also available as an open water experience (2 metres/ 6 feet max. depth)
What You Learn


The PADI Seal Team program is broken into two parts.
Part one, AquaMissions 1 - 5, teaches kids the basics of diving - things like buoyancy control, mask clearing, regulator recovery, etc. After building a solid foundation of scuba skills, kids move on to part two.
Part two is full of specialty AquaMissions.
Occupational Diving Courses
Occupational Diving Courses
Kirby Morgan Helmet & Bandmask User Operator Course

This course teaches trained commercial divers, public safety divers, contaminated water divers tenders, and supervisors standardised inspection, set-up, and operation procedures for the KMDSI Helmets and BandMasks.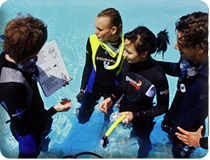 The course teaches the KMDSI monthly, and daily helmet and BandMask pre/post dive maintenance, set-up, adjustment, and inspection procedures for Kirby Morgan Helmets, BandMasks and other specific associated equipment including first stage regulators, whips and gauges. Upon completion, each student will receive a two-year certification.

Full Face Mask & Underwater Communication Systems Training
This course teaches commercial divers, occupational divers and military in the operation procedures of full face masks with underwater communication system.
Dräger Hyperbaric Chamber Operator Course
This course teaches chamber operators the operation procedures of Dräger Hyperbaric Chambers.